Posts for tag: dentures
By Riverside Family Dentistry
November 26, 2015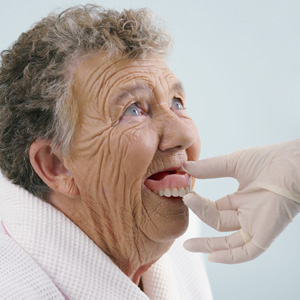 It's a common problem for denture wearers: after years of a comfortable fit, your dentures now seem to be uncomfortably loose. The reason, though, may have more to do with bone loss than the dentures.
Bone is a living tissue with a life cycle — it forms, it ages, and it eventually dies and dissolves (resorbs). It's replaced with new bone and the cycle repeats. Additionally, the forces generated when we bite or chew are transmitted from the teeth to the jaw, which helps stimulate new bone growth. When the natural teeth are missing, however, the bone no longer receives this stimulus. Resorbed bone isn't replaced at a healthy rate, which leads over time to bone loss.
Denture construction can also contribute to bone loss. The denture palate rests for support on the bony ridges that once held the teeth. Over time the compressive forces of the dentures apply damages and reduces the volume of gum tissue and eventually does the same to the bone. Combining all these factors, the reduced gum and bone volume will eventually alter the denture fit.
There are a few alternatives for correcting loose dentures. One is to reline them with new plastic, as either a temporary fix performed during an office visit or a more permanent relining that requires sending your dentures to a dental lab. Depending on the rate of bone loss, a patient could go through several denture relinings to accommodate ongoing changes in the jaw. At some point, though, it may be necessary to create a new set of dentures.
A third alternative that's becoming increasingly useful is to incorporate dental implants into the denture design. Implants can of course be used to replace individual teeth, but a few strategically placed implants (usually of smaller dimension) can serve as a support platform for a removable denture. This relieves some of the compression force of a traditionally worn denture and can slow bone loss.
If you're having problems with your denture fit, call us for an appointment. We'll help you decide on the best alternative to improving the fit and making your dentures more comfortable and secure.
If you would like more information on refitting loose dentures, please contact us today to schedule an appointment for a consultation. You can also learn more about this topic by reading the Dear Doctor magazine article "Loose Dentures."
By Riverside Family Dentistry
September 04, 2015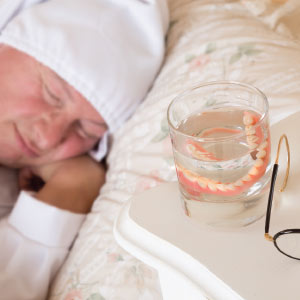 Maybe you don't like to be without teeth — ever. Or maybe you get a little forgetful sometimes. Whatever the reason, if you're wearing your dentures to bed at night, we have one message for you: Please stop!
Sleeping in dentures can have serious health consequences. A recent study published in the Journal of Dental Research found that nursing home residents who wore their dentures to sleep were 2.3 times more likely to be hospitalized or even die of pneumonia as those who did not sleep in dentures. But how can wearing dentures at night more than double your chances of getting a lung infection?
As the study noted, pneumonia-causing bacteria can readily be moved from the mouth to the lungs simply by breathing. And dentures that are not removed at night can become breeding grounds for all kind of bacteria and fungi (such as yeast). That's what makes them potentially dangerous.
Another condition often seen in people who wear upper dentures continually is called denture stomatitis, which is characterized by a red, inflamed palate (roof of the mouth) that has been infected with yeast. The yeast microorganisms can also infect cracked corners of the mouth, a condition known as angular cheilitis. Moreover, it has also been shown that people who sleep in dentures have higher blood levels of a protein called interleukin 6, which indicates that the body is fighting an infection. Need we go on?
Wearing dentures is supposed to improve your quality of life, not reduce it. So promote good health by taking your dentures out at night, and sticking to a good daily oral hygiene routine:
Remove and rinse your dentures after every meal.
Brush your dentures at least once a day with a soft toothbrush or denture brush and dish soap, liquid antibacterial soap, or denture cleanser (but don't use toothpaste — it is too abrasive).
Store your dentures in water or a solution made for this purpose.
Brush your gums and tongue every day with a soft toothbrush (not the same one you clean your dentures with).
Rinse your dentures in clean water before you put them back in your mouth.
If you would like any more information on dentures and oral hygiene, please contact us or schedule an appointment for a consultation.
By Riverside Family Dentistry
May 15, 2014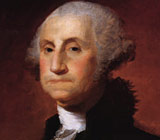 Everyone knows that George Washington wore false teeth. Quick, now, what were our first President's dentures made of?
Did you say wood? Along with the cherry tree, that's one of the most persistent myths about the father of our country. In fact, Washington had several sets of dentures — made of gold, hippopotamus tusk, and animal teeth, among other things — but none of them were made of wood.
Washington's dental troubles were well documented, and likely caused some discomfort through much of his life. He began losing teeth at the age of 22, and had only one natural tooth remaining when he took office. (He lost that one before finishing his first term.) Portraits painted several years apart show scars on his cheeks and a decreasing distance between his nose and chin, indicating persistent dental problems.
Dentistry has come a long way in the two-and-a-half centuries since Washington began losing his teeth. Yet edentulism — the complete loss of all permanent teeth — remains a major public health issue. Did you know that 26% of U.S. adults between 65 and 74 years of age have no natural teeth remaining?
Tooth loss leads to loss of the underlying bone in the jaw, making a person seem older and more severe-looking (just look at those later portraits of Washington). But the problems associated with lost teeth aren't limited to cosmetic flaws. Individuals lacking teeth sometimes have trouble getting adequate nutrition, and may be at increased risk for systemic health disorders.
Fortunately, modern dentistry offers a number of ways that the problem of tooth loss can be overcome. One of the most common is still — you guessed it — removable dentures. Prosthetic teeth that are well-designed and properly fitted offer an attractive and practical replacement when the natural teeth can't be saved. Working together with you, our office can provide a set of dentures that feel, fit, and function normally — and look great too.
There are also some state-of-the art methods that can make wearing dentures an even better experience. For example, to increase stability and comfort, the whole lower denture can be supported with just two dental implants placed in the lower jaw. This is referred to as an implant supported overdenture. This approach eliminates the need for dental adhesives, and many people find it boosts their confidence as well.
If you have questions about dentures, please contact us or schedule an appointment for a consultation. You can learn more in the Dear Doctor magazine articles "Removable Full Dentures" and "Implant Overdentures for the Lower Jaw."