Posts for tag: retainer
By Riverside Family Dentistry
August 03, 2021
For nearly two decades, singer-songwriter Taylor Swift has dominated the pop and country charts. In December she launched her ninth studio album, called evermore, and in January she delighted fans by releasing two bonus tracks. And although her immense fame earns her plenty of celebrity gossip coverage, she's managed to avoid scandals that plague other superstars. She did, however, run into a bit of trouble a few years ago—and there's video to prove it. It seems Taylor once had a bad habit of losing her orthodontic retainer on the road.
She's not alone! Anyone who's had to wear a retainer knows how easy it is to misplace one. No, you won't need rehab—although you might get a mild scolding from your dentist like Taylor did in her tongue-in-cheek YouTube video. You do, though, face a bigger problem if you don't replace it: Not wearing a retainer could undo all the time and effort it took to acquire that straight, beautiful smile. That's because the same natural mechanism that makes moving teeth orthodontically possible can also work in reverse once the braces or clear aligners are removed and no longer exerting pressure on the teeth. Without that pressure, the ligaments that hold your teeth in place can "remember" where the teeth were originally and gradually move them back.
A retainer prevents this by applying just enough pressure to keep or "retain" the teeth in their new position. And it's really not the end of the world if you lose or break your retainer. You can have it replaced with a new one, but that's an unwelcome, added expense.
You do have another option other than the removable (and easily misplaced) kind: a bonded retainer, a thin wire bonded to the back of the teeth. You can't lose it because it's always with you—fixed in place until the orthodontist removes it. And because it's hidden behind the teeth, no one but you and your orthodontist need to know you're wearing it—something you can't always say about a removable one.
Bonded retainers do have a few disadvantages. The wire can feel odd to your tongue and may take a little time to get used to it. It can make flossing difficult, which can increase the risk of dental disease. However, interdental floss picks can help here.  And although you can't lose it, a bonded retainer can break if it encounters too much biting force—although that's rare.
Your choice of bonded or removable retainer depends mainly on your individual situation and what your orthodontist recommends. But, if losing a retainer is a concern, a bonded retainer may be the way to go. And take if from Taylor: It's better to keep your retainer than to lose it.
If you would like more information about protecting your smile after orthodontics, please contact us or schedule a consultation. To learn more, read the Dear Doctor magazine article "The Importance of Orthodontic Retainers."
By Riverside Family Dentistry
July 24, 2021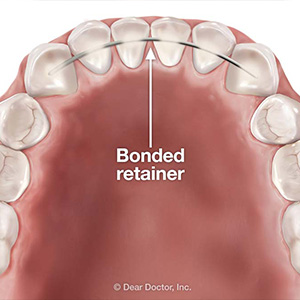 For some, the excitement over their braces coming off gets dampened a bit with the prospect of now having to wear a retainer. But it has to be—newly realigned teeth have a tendency to revert to their previous positions out of a kind of "muscle memory." A retainer prevents that from happening.
But as essential as it is, the standard retainer is almost as noticeable as braces, a major reason why many patients are less than enthusiastic about wearing them. And, because it's common for them to become lost when out of the mouth, replacing one becomes an added expense.
But there's another option—the bonded retainer. This retainer consists of a metal wire bonded to the back of the teeth to prevent them from moving. Because it's fixed in place, only a dentist can remove it.
The bonded retainer addresses the previous two issues associated with a removable retainer. Because it's behind the teeth rather than in front, it's out of sight to others. And, because it's fixed in place, there's no danger of losing it.
But unlike its removable cousin, which can be taken out for oral hygiene, the bonded retainer can make flossing more difficult. And, by nature, a bonded retainer must be worn all the time; a removable retainer allows for a more flexible schedule later in the treatment of a few hours a day.
So, which retainer option is best for you or another family member? A bonded retainer may be more attractive for appearance's sake, if it must be worn indefinitely, or if there's a high probability of the teeth moving out of alignment. And, it might be the right choice where there's a concern about a patient's ability to keep up with a removable retainer.
If you do decide to go with a bonded retainer, ask your dental hygienist for training on using floss with the fixed appliance—this can help improve oral hygiene. Whatever you choose, bonded or removable, your retainer will help you keep that new, beautiful, straightened smile.
If you would like more information on orthodontic retainers, please contact us or schedule an appointment for a consultation. You can also learn more about this topic by reading the Dear Doctor magazine article "Bonded Retainers."
By Riverside Family Dentistry
August 19, 2018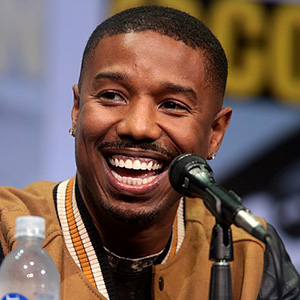 Some moviegoers have been known to crunch popcorn, bite their fingers or grab their neighbor's hands during the intense scenes of a thriller. But for one fan, the on-screen action in the new superhero film Black Panther led to a different reaction.
Sophia Robb, an 18-year-old Californian, had to make an emergency visit to the orthodontic office because she snapped the steel wire on her retainer while watching a battle scene featuring her Hollywood crush, Michael B. Jordan. Her jaw-clenching mishap went viral and even prompted an unexpected reply from the actor himself!
Meanwhile, Sophia got her retainer fixed pronto—which was exactly the right thing to do. The retention phase is a very important part of orthodontic treatment: If you don't wear a retainer, the beautiful new smile you're enjoying could become crooked again. That's because if the teeth are not held in their new positions, they will naturally begin to drift back into their former locations—and you may have to start treatment all over again…
While it's much more common to lose a removable retainer than to damage one, it is possible for even sturdy retainers to wear out or break. This includes traditional plastic-and-wire types (also called Hawley retainers), clear plastic retainers that are molded to fit your teeth (sometimes called Essix retainers), and bonded retainers: the kind that consists of a wire that's permanently attached to the back side of your teeth. So whichever kind you use, do what Sophia did if you feel that anything is amiss—have it looked at right away!
When Black Panther co-star Michael B. Jordan heard about the retainer mishap, he sent a message to the teen: "Since I feel partly responsible for breaking your retainers let me know if I can replace them." His young fan was grateful for the offer—but even more thrilled to have a celebrity twitter follower.
If you have questions about orthodontic retainers, please contact our office or schedule a consultation. You can read more in the Dear Doctor magazine articles "The Importance of Orthodontic Retainers" and "Bonded Retainers."